Hi! Welcome to SineadElle Designs!
I am so happy you are interested in my design services.
I offer custom blog designs for very cheap prices, and love to work hands on with clients to provide a blog design that best suits you!
*At this point I only work with Blogger templates*
Take a look at my porfolio, and get in contact with me about a completely custom design,
or browse my pre-made designs and get them customised for you.
Check out my prices and purchase the perfect custom design for you!
I aim to provide a low-cost design service for up-and-coming blogs, or established bloggers who are strapped for cash.
All money made will go to my Disney International College Program Fund,
helping me get to Florida, America to work at Walt Disney World in August 2013.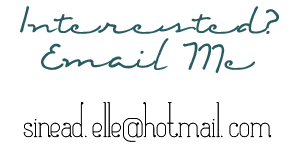 Thanks for your interest, and I look forward to hearing from you!
Sinead xx